Magic cannot be grasped. Certainly not such a short and fabulous moment as twilight, when the day turns into evening so quickly and the lights go back on. It is precisely this elusive, short 'magic hour' that photographer Jan van der Horn (1951) tries to capture in his staged photographs. The magic photographs he takes will light up from 11 November (St Martin's Day) until 21 November in a unique art project in Voorschoten. A chain of light images, placed door-to-door behind windows, form a 'light gem' there.
Photographer Jan van der Horn used to walk to school along the Leidseweg in Voorschoten. With his light gem, he returns to his former home town. He asked Leidseweg residents to make their bay windows and window sills available. On these, he places his light sculptures. The result: as the intimate and fabulous pictures light up behind the windows of each house, it creates a wide and large effect in the street. When all the light images are lit, it produces a magical atmosphere and wonderful moments of wonder.
Fantastic photography
Jan van der Horn worked for Polaroid and also worked as a commercial photographer. For his work, he captured reality. Instead, in his free work, which he regularly exhibited at Torch gallery, he captures magical moments. As a photographer, he is fascinated by that magic image, with miraculous flowers and buildings in a magical setting.
His photographs are staged, creating worlds that are not from here, 'fantastic photography'. To do this, he makes flowers and buildings out of paper, clay or porcelain. He sets these in a fairytale setting and with atmospheric lighting he creates a fantasy world. A reality of his own. 'Magic is elusive, but I still try to capture fairy tales,' says Jan van der Horn. 'Photography is about capturing moments. And in doing so, I want mystification. A painting is a piece of linen with paint. That is all it is. Karel Appel already said that matter is paint. I try to pull it through matter. With me, you can't see what the matter is. Is it clay? Is it paper? I try to pull it above the Dutch clay.'
Lantern parade
His inspiration for this lies in his childhood in Voorschoten. 'As a child, I was once hugely impressed by a lantern parade,' he says. 'I was staying out with family in Oostvoorne, saw that parade of lights and loved it. It was a fairy-tale image that gave a moment of happiness. At the same time, I felt very sad. Because I was not allowed to participate.'
Another part of his inspiration lies in the Donald Duck. 'Those were moments of happiness too, when the new Donald Duck came out. Especially 'The Adventures of Tom Puss', by Marten Toonder that were still in it then. Then I saw those dark castles in front of a full moon. Those were stories and images in an atmosphere I try to create. I'm always looking for paradise, for a world that doesn't exist. And those happy moments of the past I always try to repeat. All visual artists do that, don't they?'
Outside world
Jan van der Horn comes from what he calls a closed family. His father was autistic; Van der Horn himself was diagnosed with Asperger's ten years ago. 'The outside world was always shut out in our home. For me, from the moment I was captured by photography, the camera was something that stood between me and the world. With it I moved among people and with it I felt at home.' He did the Rietveld Academy in Amsterdam, worked for Polaroid. 'Polaroid was my contact with the real world. I took a lot of photos and went to fairs.'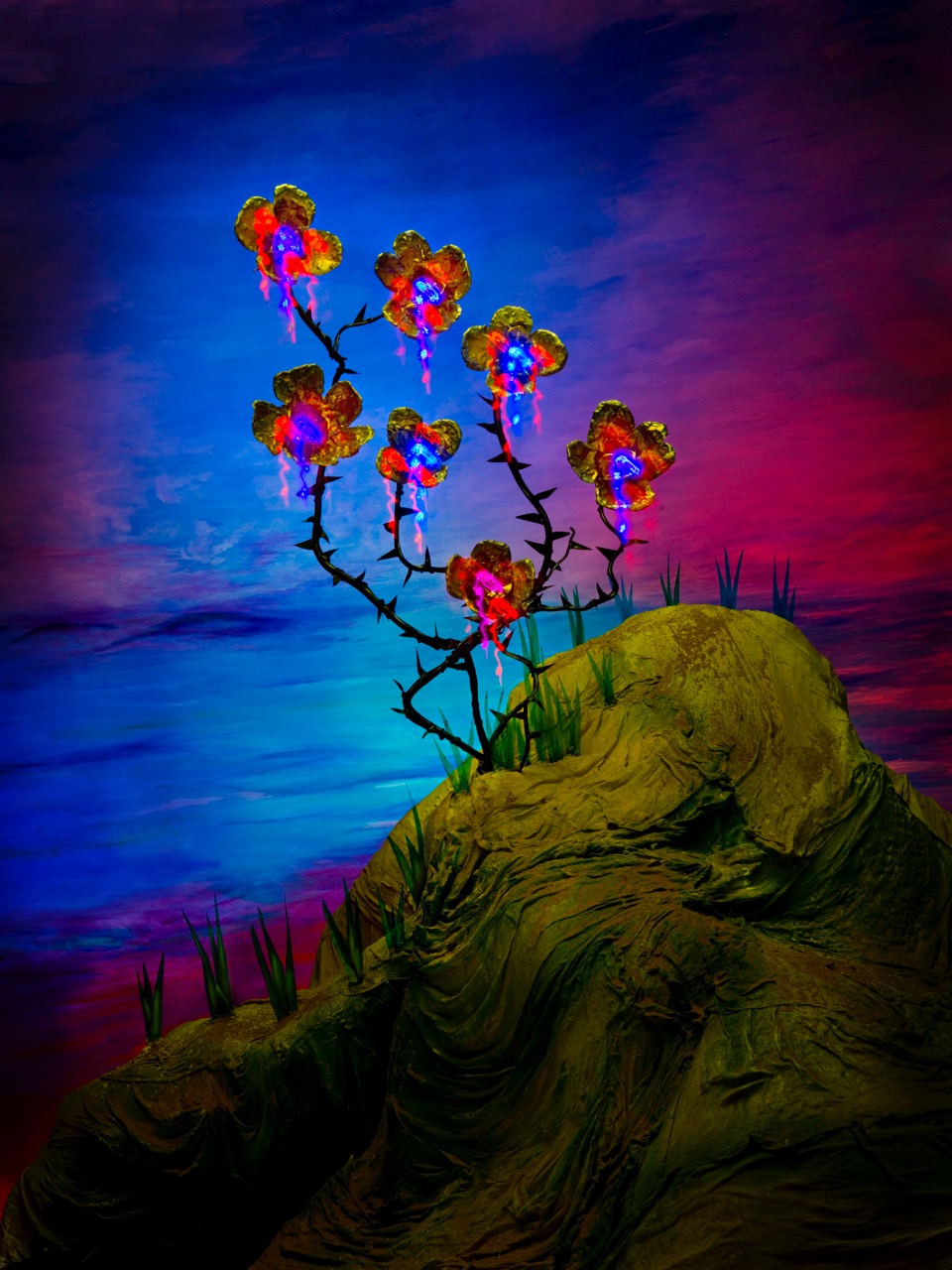 Light
As a photographer, he captured reality, eventually arriving at his own world. He was given a large globe of a street lamp by a friend, from which he made a moon. 'I like things that give light from within,' he says. And so he created entirely unique worlds with spheres and canvases. 'In a playful way, you discover that you can create something that is not from here. It is the stillness of nature that I try to capture. Fairy tales.' He exhibited at Torch Gallery after meeting Adriaan van der Have. The latter set him on the track to make 'lightboxes' from his photographs. From 11 November, these light boxes will stand in the Leidseweg in Voorschoten and create a magical moment.
'It always remains that atmosphere that I want to grab. The other day I was on holiday in Greece. We waited until the sun went down and the lights came on. It's only ten minutes, but it has to do with the feeling. If there is a party somewhere in a village and all the windows are lit up. You walk outside and you would like to join in. That has to do with loneliness. There are also quite a lot of trees in my work, they symbolise the same thing. As a visual artist, you are always looking for paradise.'
Good to know
'Het Lichtjuweel' by Jan van der Horn is on display on Leidseweg in Voorschoten. Opening: Friday 11 November 16.00 hrs. Thereafter on view daily until 21 November, from 16.00 to 00.00.